Description

The home has a front porch, deck, and a woodland patio for relaxing and enjoying this amazing nature sanctuary. An incredible place for outdoor entertaining. Central to all of the wonderful out door spaces is the fountain courtyard. The soothing sound of the flowing water can be appreciated all most every where near and inside the house.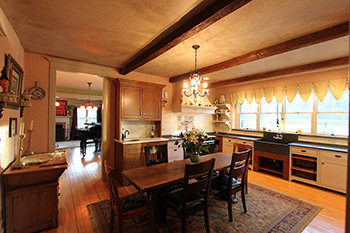 The large European kitchen has a LaCanche triple oven stove, one of many European imports. The large French Farm table seats 6.
There is a library directly off of the kitchen. A grand piano graces the music room which has French doors overlooking the large deck. Most of the lighting has been imported from Europe.
The turret of the house enables you to see all four directions from the parlor or upstairs Master bedroom sitting room. The master suite also has an ensuite bath with large walk in rain shower and separate Ultra Bath Whirlpool. The south facing windows fill this room with lots of natural light.
The home has many original features and has all hardwood floors on the main level. In the family room you will find the fireplace and large Plasma TV with surround sound.
Please note: Per Glen Ellyn Village ordinace, single family use only. No large gatherings or events.